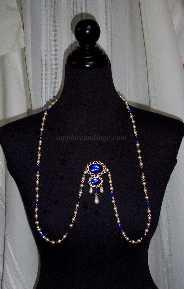 "Cassandra" Wrapable Bodice Jewelry
History comes to life through this Renaissance bodice jewelry piece! This bodice chain is made with 25x18mm and 18x13mm smooth acrylic cabochons, 6mm imported glass pearls, 6mm faceted glass accent beads, all hand-wired to form a 45-47" chain that can be looped and worn as a choker necklace or left loose to drape the bodice.

There are several ways to wear this draping chain...experiment and find the way you like it best!