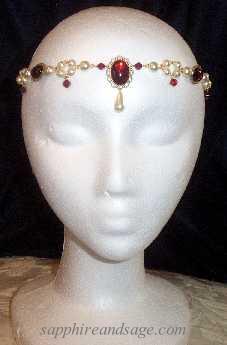 "Cassandra" Circlet Headpiece
This luxurious Medieval-inspired headpiece, Cassandra, is the perfect choice for those craving a touch of sophistication and elegance to their festival or wedding ensemble. Crafted with eye-catching 6mm colored glass beads and creamy white glass hand-wired pearls, this piece will effortlessly elevate your look and make you stand out at any special event. Add this tasteful circlet to your jewelry collection and flaunt your refined style.
Approximately 20-21" in length.  Can be worn around the head, or tipped forward from the crown of the head down toward the forehead.